Upcoming Educational Webinar On Managed Futures
AltsDb, in association with WealthChannel, has announced an upcoming educational webinar for financial advisors that will provide an overview of the managed futures asset class. The webinar, titled "Generating Alpha With Managed Futures," will feature Andrew Beer, co-founder at Dynamic Beta investments (DBi), and is scheduled for noon ET on Thursday, January 26, 2023.
Note: The webinar is free for financial advisors to attend, and it has been accepted by the CFP Board for 1 hour of CE credit.
Click here to register for the webinar.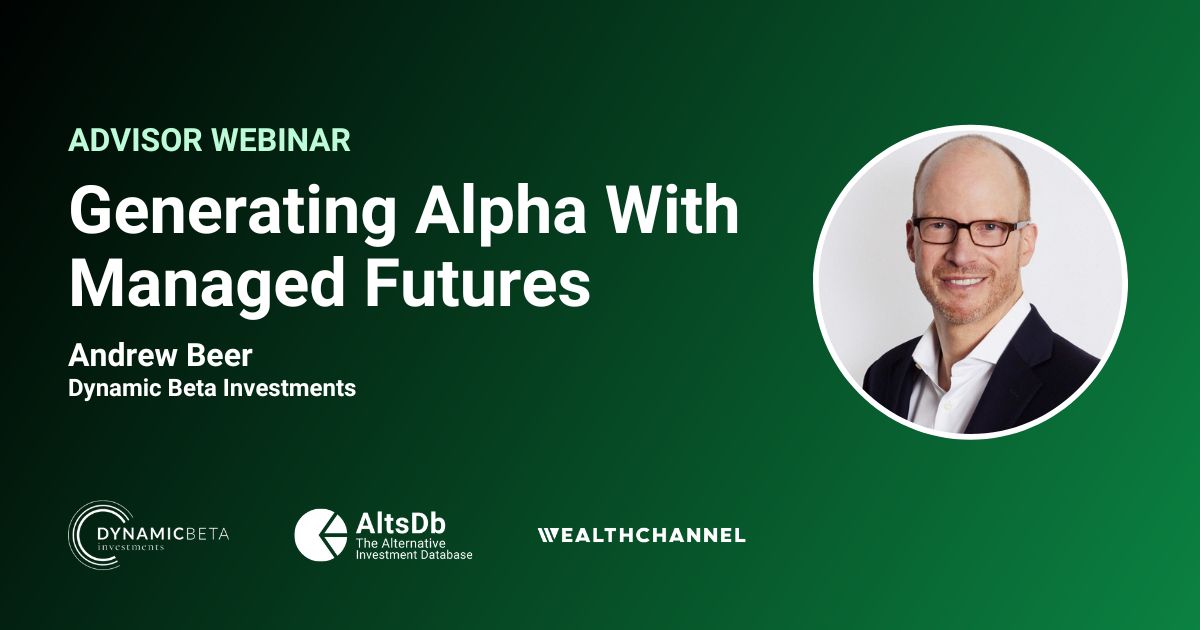 Webinar Description
Managed futures is a puzzle:
Yet with zero correlation to stocks and bonds — and big gains during the 2000 dotcom bubble crash, 2007-08 global financial crisis, and 2022 bear markets — some experts believe that the strategy has more diversification "bang for the buck" than private equity, commodities, real estate, private credit, and other common "diversifiers."
And yet, only a tiny fraction of advisors use managed futures in their portfolios. In fact, in the US today, managed futures mutual funds and ETFs represent only roughly 0.10% and 0.02% of their respective markets.
Hedge fund veteran Andrew Beer, founder of Dynamic Beta Investments and co-portfolio manager of DBMF (a managed futures ETF that gained over 20% in 2022), will provide a down to earth, practical tour of the space geared toward the key questions advisors want answered:
What is the Managed Futures asset class? (In straightforward terms.)
How and why do Managed Futures generate alpha? (The obvious answer.)
How Managed Futures can diversify a portfolio of stocks and bonds.
The two big drawbacks for advisors, and how to avoid them.
How to invest in Managed Futures (the pros and cons of different mutual funds and ETFs).
How much you should invest in Managed Futures.
How to position the allocation with clients.
Free registration is required to attend this webinar. Click here to learn more.