Benefits To Investing In California Opportunity Zones, With Urban Catalyst
Urban Catalyst was a presenting partner at Alts Expo 2022, a one-day virtual event hosted by AltsDb. In this webinar, Erik Hayden presents Urban Catalyst Opportunity Zone Fund II.
Interested In Learning More About This Opportunity?
Click here to visit the Official AltsDb Partner Page for Urban Catalyst. On this page, you can learn key details about this opportunity, as well as request more information from the sponsor.
Webinar Presenters
Webinar Highlights
Background on Urban Catalyst's fund strategy.
A brief summary of the Opportunity Zone program.
The investment thesis for residential and office development in downtown San Jose, California.
Key tax benefits for investors in Opportunity Zone funds.
The advantages of investing with a sponsor who is a developer.
An overview of investment, development, and cashflow timelines for the fund.
How the California housing crisis creates opportunities for investors in multifamily.
Differences for investors between Urban Catalyst's Opportunity Zone Fund I and Fund II.
Other key details about the project, including exit strategy and timeline.
Live Q&A with webinar attendees.
Connect With Urban Catalyst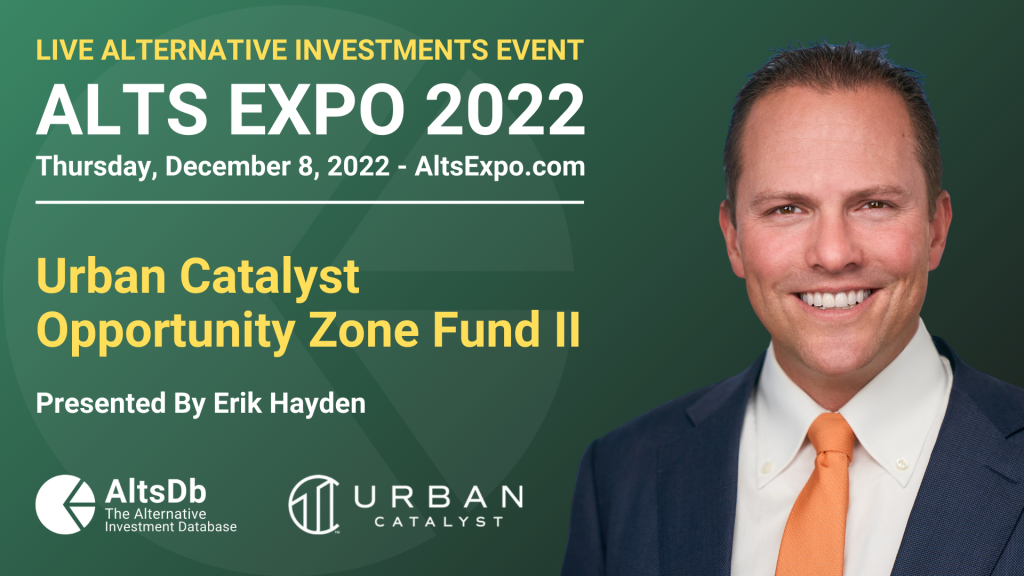 Webinar Transcript
Jimmy: Urban Catalyst is going to be presenting, or Erik, I should say, is gonna be presenting Urban Catalyst's Opportunity Zone Fund II today. So, Erik, there you are. I can see you. How are you doing?
Erik: Doing great, Jimmy. So happy to be here.
Jimmy: Erik, I see your presentation. So, I'll turn it over to you. Please begin.
Erik: All right. Thank you, Jimmy. So, Urban Catalyst Opportunity Zone Fund II, you know, we're structured a lot like a traditional real estate equity fund. We're focused on doing ground-up real estate development projects in downtown San Jose, California. And, of course, we're also an Opportunity Zone fund. And that allows us to give the Opportunity Zone tax benefits to our investors.
Just to kick us off for this fund, you know, we've had quite a bit of news written about us over the past few years, really just a lot of positive buzz about what we're doing here in downtown San Jose. We've had over 250 news articles written. Probably most important of those, we're named by "Forbes Magazine" as one of the top 10 Opportunity Zone funds in the country. So nothing like getting a little, you know, national validation from "Forbes" that we're doing things the right way.
A little bit about Opportunity Zones and how the program works, in order to be eligible for the tax benefits associated with the program, you have to have a capital gains event. Here are the three most common ways that folks have capital gains events, sale of stock, sale of a business, sale of real estate. And then once you have that event, you have 180 days to invest into a qualified Opportunity Zone Fund. And we just put this up here to make sure no one misses out on that timeline.
There are two major tax benefits associated with the program. The first is you're able to defer paying taxes on that initial capital gains of it until you pay your taxes in 2027. So you can defer for a few years. The second benefit, after investors' money seasons in our fund for 10 years, all of the profits from the fund itself are tax-free from a federal capital gains perspective. So, our plan here at Urban Catalyst with these projects is, you know, we're gonna build these buildings, we're gonna lease them up, they'll stabilize, we'll hold them until we get to the end of that 10-year mark, and then we're gonna sell the assets and liquidate the fund. And that's when we return the majority of the profits to our investors and those profits are tax-free.
Just taking a step back here in the San Francisco Bay area, in green you can see the Opportunity Zones. These are census tracts designated by the federal and state government. For this fund, specifically, we're located in downtown San Jose. You can see four census tracts that are Opportunity Zones cover almost all of the downtown. And, you know, it's interesting, when I first started Urban Catalyst, my whole plan was to create a real estate equity fund to do ground-up development projects in downtown San Jose. And that's because I've been a developer for a long time here in the Bay Area doing lots of big projects. And we can really see those macroeconomic trends all pointing towards downtown San Jose, as the next place to do development on a large scale.
And it was really after I started forming Urban Catalyst that I realized everywhere I wanted to build these buildings was located in an Opportunity Zone. I thought, wouldn't it be great to be able to give my investors these additional tax benefits associated with the program? So that's how we became an Opportunity Zone fund.
And when I talk about the overall macroeconomic trends, what I'm really talking about is tech migration. So here's Silicon Valley. You know, obviously, everybody knows lots of big tech companies here in the valley. Specifically for this example, I'm just gonna talk about these five companies. These are now the five largest companies in the United States by market cap. You know, three of them have their headquarters here in the valley, the other two a large office presence.
You know, as these companies have grown over the last 20 years, they've expanded their office footprint, you know, all over the world, all over the country. But here in Silicon Valley, we've seen a slow migration southward. If you kind of think, Menlo Park, Palo Alto, and Mountain View, this is kind of the center of the Silicon Valley universe. These cities are not very big. So, as these companies expanded, they needed room to grow. We saw a huge movement into the city of Sunnyvale. To give everyone an idea of kind of the scale of this, right now in the city of Mountain View, Google occupies 95% of the office space in the entire city. Very similar here in Cupertino, Apple occupies 85% of the office space. And now, in the city of Sunnyvale, Google and Apple combined, they have more than 50% of the office space in that city.
So it's been great for Sunnyvale. We've seen development go gangbusters there for over a decade. And now, the city is completely built out. And we used to say, "Now, that the city's completely built out, where's the next place these companies will move?" Obviously, it's gonna be downtown San Jose, but now I can really just say these companies have moved to San Jose, because Microsoft and Apple have taken big land holdings in San Jose, Amazon has an office in downtown. Really the big story has been Google and I'll talk more about what they've been up to.
Meta hasn't quite made it to downtown San Jose yet, but they did just at the end of last year take 1.2 million square feet of office in the city of Santa Clara, about five miles outside of downtown. So, we are seeing this tech migration trend continue even throughout the pandemic, and even the uncertainty that we're in right now. I mentioned that we've been developers, our team, we've been doing ground-up development for quite some time. Downtown San Jose really has everything that we want when we do development anywhere. The first thing is we wanna make sure that there is a demand for all of the different types of projects that we're building. That demand is really driven by the Silicon Valley job engine.
We wanna make sure that transit physical infrastructure is already in place. You know, downtown San Jose really is the only true urban environment in Silicon Valley. Diridon Station is slated to be the largest train station on the West Coast. It already has a variety of mass transit options that connect to it, including Caltrain, which gets you up to San Francisco in about an hour. And now, BART, which is the largest mass transportation system here in the Bay Area is fully funded to connect through downtown San Jose into Diridon Station. They're starting construction next year. San Jose State University, you know, with over 35,000 students, it's the second largest university in the Bay Area behind Cal Berkeley. And it's right in the heart of downtown.
Last but not least, you know, we wanna do business in a place where the local government wants to see development happen. You know, that is not the case for most California cities. Most cities are somewhat anti-development. But it's almost the complete opposite here in downtown San Jose. They wanna see development happen. They want high density and they want it now. A lot of that's because of our political leadership. This is a picture of my partner, Josh and I, with Sam Liccardo. Sam's the mayor of San Jose. He's been the mayor for eight years. And before that, he was the council member that represented downtown for eight years. It's really the policies that he's put into place that have streamlined the pre-construction process and just made it so much easier for developers like us to do business in the downtown.
To give everyone an idea of just the massive revitalization that's happening in downtown San Jose right now, I'd like to show this before and after picture. So, here's the current skyline in San Jose. If all of the projects that are currently in the planning process are built out, say over the next 10 years, downtown San Jose should triple in size. You can see Urban Catalyst, both our Fund I and Fund II projects located there in red.
To continue talking about the local market, here's my two-dimensional map. This black line here, this represents the Opportunity Zone. Our headquarters here at Urban Catalyst, we're located right here in the zone. We're right next door to Adobe's world headquarters. It's been really fun watching Adobe build their fourth million-square-foot high-rise tower right here. They're actually connecting it to their existing building with a huge sky bridge that goes over a public road right now, which is also pretty fun to watch. Adobe's announced they will be occupying their new space with 3,800 employees in Q1 of next year. Always good to see.
Zoom is also located right next door to us. In fact, we share a parking garage with Zoom. Really kind of interesting, about two months ago, all my employees started to complain that there was nowhere to park because Zoom was back in the office. You kind of figure if anybody was gonna work from home forever, it definitely was gonna be Zoom, right? But no, Zoom is back. San Jose State University, then this red dash line, this is where that new BART line is running with a station here downtown and connecting into Diridon Station, the huge train station. I mentioned I was gonna talk a little bit more about Google because it's really been the most exciting thing that's happened in downtown over the last five years. Google has spent half a billion dollars acquiring property. They've acquired over 80 acres.
And the plans they had approved at city council last year show them building roughly 7 million square feet of office and 6,000 residential units. At build out, this will be Google's largest campus on Earth. Google started construction on the campus last month. They're planning a 10-year $19 billion build-out. And just to give her an idea of, you know, what this means, the downtown San Jose is the 10th largest city in America. It's bigger than San Francisco. It's bigger than Oakland. Our downtown core has about 100,000 people. This campus alone is expected to bring between 40,000 and 60,000 additional people to downtown San Jose every day. So really it's gonna be a huge shot in the arm. It's great to see them moving forward.
But, of course, Google's not the only story in town. We've seen other national and regional developers just flood into the downtown over the last few years. Four notable ones, Boston Property is a big publicly traded REIT, Hines out of Houston, the largest developer in the country. Westbank out of Toronto has identified San Jose as one of their future cities. And then Jay Paul, who's fresh off building 26 office buildings in the city of Sunnyvale has moved heavily into downtown San Jose. And these four groups… Here's an example of some of the projects that they're building and that they have planned that. In fact, Jay Paul is just about done with this million-square-foot office high rise, been fun to watch. Boston Properties are about halfway done with this project. Westbank just broke ground on this two months ago. So we're seeing these projects come to life. It's very exciting.
Here at Urban Catalyst, you know, we saw this wave of development coming into downtown San Jose. And what we really wanted to do and were successful at is get in on the ground floor and acquire properties before they were scooped up by all the other big tech companies and developers. That's exactly what we did with our fund one and fund two projects. So you can see here are fund one projects… And just a little bit of history about our first Opportunity Zone fund here in downtown San Jose, six projects, a variety of asset classes. We raised $131 million. It was a two-year fundraising period. We closed fundraising in December of 2020. We're making a lot of great progress with these projects. We're almost done building Paseo. We broke ground on different places. We're going to go vertical on Keystone here in January, TMBR in the March and fall towards the end of next year, and then finally the Fountain Alley Building.
So that's fund one. Today, of course, we're here to talk about our current offering, which is Fund II. Fund II is located right here in Orange. You can see we managed to acquire almost half of an entire downtown San Jose city block. It's a fantastic location. It's right across the street from City Hall. It's right on Santa Clara Street, which is really the main drag of the central business district. And it's right next to that future BART station, really making it the epitome of transit-oriented development. In Fund II, the two projects we're gonna build, Icon and Echo. Icon there on the left is a 500,000-square-foot office building. Echo on the right is, well, it's just about 400 units of multifamily apartments. And when I talk about these projects, you know, I like to talk about the demand. Here's another view of the projects. Let's talk about the demand as to why we chose to build these asset classes in this location.
And I'm gonna start off talking about multifamily demand here in the Valley. This is somewhat of a no-brainer. I mean, California, we have a housing crisis. It's been this way for years. It's especially true here in Silicon Valley, where we've created six jobs for every housing unit that we built for over 30 years straight. And that's why we have some of the most expensive housing in the entire world. In fact, San Jose for our single-family homes, median home price is now just about 1.7 million. We were just rated the most expensive city to live in the United States and the fourth most expensive big city to live in in the entire world. So, it's very expensive to live here. And it's because we have this housing crisis. So, it's not great for our society but it's pretty good for apartment developers, means we're gonna have high occupancy rates and, you know, solid rents.
Now, whenever we build multifamily, we like to put in great amenity spaces for our future tenants. This is our podium deck. It's on the sixth floor. You can see we have a nice infinity pool. We have these cabanas. This is a two-story amenity space that wraps the deck. This is our indoor-outdoor fitness facility. This is our club room and kitchen. And then back here, we have a speakeasy.
Up on the 26th floor, this is our rooftop lounge. And so we have some nice couches and fire pits. And then inside here, this is an office area. You kind of think it's like a little mini WeWork space for our residential tenants. This is their conference room that doubles as a dining room in the evening. And now, on to our office portion, you know, for us the demand for office is a little bit different. I mean, demand for office here in Silicon Valley has remained relatively strong throughout the pandemic.
When we build office as developers, kind of the big difference between multifamily is we can build it just about fast enough for tenants to lease them. So, we build it just as fast as it's working. So whenever we build new office, we know we're gonna be competing with other new office on the market. So, we have to build it in a way where we can attract that top-quality tenant. And that means we have to do a certain number of things. The first is, of course, the old mantra, location, location, location. You have to have a great location. I already kind of talked about how much we liked this location in downtown San Jose. But the competitive market area for office is all of Silicon Valley.
So how does downtown San Jose compete? It's really in two ways. The first is rents for office downtown San Jose about 50% of what rents are in Palo Alto. So it's a lot less expensive to locate here. Also, it's one of the only places you can get space at scale. To get 500,000 square feet of space, say in the city of Menlo Park, you know, maybe you're in 10 or 15 different buildings, here you can be located all in one building.
The next thing that's important to us is what I call functionality. That means we have the right amount of parking. We have a nice eight-story parking garage right here. We have these huge floor plates. These are 40,000 square feet per plate. So that means almost an acre of net square footage for every floor. We also have 14-foot floor-to-floor heights of floor-to-ceiling windows, that open airy office feeling with lots of indoor-outdoor amenity spaces, exterior staircases, balconies. We have rooftop gardens and lounges really take advantage of the 300 days a year of sunshine we have here in Silicon Valley, one of the best places in the country to live weather-wise.
The last thing is what I call architectural aesthetic beauty. That is kind of a fancy way of saying you have to have a nice-looking project. We utilize WRNS for this project. They're one of the premier office architects here in Silicon Valley that are fresh off during Microsoft's big campus up in Mountain View. And we're really pleased with how this design has turned out.
What makes Urban Catalyst different than other Opportunity Fone funds is, you know, most other Opportunity Zowe funds, their whole plan is to go out, raise a ton of money, and then look all over the country to find developers that have projects in Opportunity Zones so they can make partnerships. Here in the Valley, we like to look at Steve Jobs and Steve Wozniak, we think, these guys go out, raise a ton of money and then scramble all over to find someone to build them a computer. This is, of course not, they built a computer, and then they took it out to the market.
And then the thing I like to talk about with all of our potential investors is, you know, when you hear about Opportunity Zone funds, you hear about the tax benefits, and, you know, don't get me wrong, the tax benefits are great. But when it comes down to it, if the best tax benefit you're getting as a part of our program is you're getting tax-free profits after 10 years, you know, there better be profits after 10 years or really what's the point of the entire program? So, understanding the local real estate market, the asset classes that are being built, and who the developers are, that's really what matters.
Here at Urban Catalyst, we see ourselves as a solid fundamental real estate equity-funded development company, and we see the Opportunity Zone tax benefits as the icing on the cake for our investors. A little bit about me, I'm the founder of Urban Catalyst. I've been in real estate development my entire career. I've done several billion dollars worth of projects, all in the San Francisco Bay area, a lot of focus in Silicon Valley, and specifically in San Jose. In general, I build institutional quality and scale projects. And really, that means I build big income-producing properties with a typical exit strategy of selling out to a publicly traded REIT or a large institutional investment group.
We have five partners here at Urban Catalyst, but we also have now 43 people that work here. And when I first started Urban Catalyst, my whole plan was to create an all-star team of downtown San Jose developers, and I did that by bringing on Josh Burroughs, and Paul Ring. Josh is our Chief Operating Officer. And by the way, I've known Josh and Paul for way over a decade each. Josh spent 10 years before he joined Urban Catalyst with Barry Swenson Builder. They're a big family office, downtown San Jose landowner, general contractor, and developer here. Josh, when he was at Swenson just got experience building a variety of asset classes.
Paul Ring, very similar to Josh, for 15 years before he joined Urban Catalyst, he was the head developer of a group called The Core Companies. They focused on multifamily and below-market-rate housing development almost exclusively in downtown San Jose. Paul now leads our 18-person team of development and construction professionals that build all of our buildings. Of course, we're not just developers. We're also fund managers. Morgan Mackles, who I've been friends with since we were 16 years old, so over 25 years, went to high school together, and was a groomsman in my wedding, Morgan has spent his career building scalable and repeatable sales processes. He's done it for small and large companies, startups all the way up to Fortune 500. And he's the primary reason why we've been so successful in fundraising both for Fund I and Fund II.
Morgan, of course, is our head of investor relations. And then Sean Raft, Sean's an attorney. He's our General Counsel and our chief administrative officer. He manages all of our financial consultants, our accountants that do our tax and audit, our fund administrators. And he does all of our compliance with the SEC as well as the Opportunity Zone rules and regulations. A really easy way to say it is Sean really dots the I's and crosses the T's here at Urban Catalyst. So these are the five partners. Combined, they've done over $5 billion worth of real estate development here in Silicon Valley. And you can see the heavy concentration of projects that we've done in downtown San Jose.
And now, for the fun part, this is our investment timeline. Every Opportunity Zone fund is a little bit different. That is important, folks wanna know when we plan on making distributions. To start off, we're in the middle of our three-year fundraise. Our second Opportunity Zone fund, it's a $200 million fundraise and we're just over $120 million raised to date. So we're right on track to hit that $200 million mark by the end of next year. Of course, 2027, it's important because this is when everyone needs to pay taxes on that capital gains event. So, we flag that year. And then, of course, after the 10-year hold, here's where we plan to sell the properties in 2034.
Now, 2034 is a long time to wait. We do plan on making distributions before then, really starting in 2026. And this is very typical for development projects. We're gonna build the projects, lease them up. When they stabilize, we go out and we get permanent financing. We take that permanent financing, we pay off the construction loan. And then any excess refinance proceeds, we distribute those to our investors. We plan on distributing roughly 65% of our investors' initial investment back to them in 2026 as a part of this program when our projects refinance. That is a tax-free distribution because it's a distribution of debt, very similar to a home equity line of credit.
Our ultimate goal is that we distribute enough money for investors to use that money to pay their taxes in 2027. So, of course, this is where my attorneys like to say there are no guarantees associated with investing in Urban Catalyst. Please read our private placement memorandum to understand all of the risks. After 2026, we have cash flow from our stabilized assets. We plan on distributing that cash flow to our investors before we sell the properties in 2034. Now, this is always interesting, because I like to talk about right here what I call the third hidden benefit of the Opportunity Zone program.
So, of course, the first one, you're able to defer paying your taxes till 2027. Second one, you get tax-free profits after 10 years. Third one's a little more complicated to explain. It's really just for funds that are structured as LLCs like ours is. You know, anybody that owns real estate is gonna depreciate their assets on their tax returns every year. It's a little bit different for us here at Urban Catalyst, except because we're an LLC, we distribute that depreciation to our investors as passive losses. In fact, we plan on having passive losses on our investors' K1s almost every single year throughout the entire fund.
Now, why this is great is because you're gonna be getting distributions, and at the same time, you're gonna be getting passive losses, and they can offset that cash flow. Should make all of that cash flow tax-free if you use your passive loss to offset the passive income because we anticipate having more passive losses in the passive income. And then, of course, at the end, typically, when a real estate owner sells their property, they have to pay what is called depreciation recapture. So if you sell your property for more than you bought it for, all that depreciation you've taken out your tax returns over time the federal government and the state governments there, you're gonna need to pay taxes on that. You didn't need that depreciation. Everybody hates depreciation recapture.
Specifically for Opportunity Zone funds, there is no depreciation recapture. So you get to keep all that depreciation. When you put it all together, we have our tax-free refinance event, we have our tax-free cash flow throughout the duration of the fund offset by the passive losses, we have no depreciation recapture, we have tax-free profits because of the Opportunity Zone program. So, overall, pretty good tax advantages associated with the program.
Finally, I wanna talk about our bonus units program. This was a really popular program in our first fund, so we did continue it into our second fund. The way that it works is if you invest in Urban Catalyst, what you're doing is you're buying our units. And then you're paid out based upon the number of units that you want.
So, we get bonus units in three different ways. The first is our time incentive credit. And this is really to reward investors for earlier investment. You can see here we are in the month of December, we have 3% bonus units. That means if you purchased $100 worth of our units this month, we'd give you $103 worth of our units. You can see it goes down every month throughout the fundraising period. The second way that we get bonus units, our Multiple Ventures Program. This is for folks that have invested into any of our other funds. If you invest into our fund too, get 4.5% bonus units really loyalty rewards programs. Finally, it's our Volume Incentive Program, this is to reward investors for more investment. Our minimum investment size is 250,000. At 300,000, you get 1% bonus units. It goes all the way up to 1.9 million. Then these three things add together to get your total amount of bonus units. Really, that's the end of my presentation, Jimmy. Let's do some Q&A.
Jimmy: I love the Q&A. I love the Q&A almost as much as I like the elimination of depreciation recapture, Erik. A great summary of the Opportunity Zones program and your fund, one of the larger Opportunity Zone funds out there. And you've been a great partner of Alts DB and Opportunity DB for the last several years. So we appreciate you joining us here. Today we do have several questions. So, let's fire away here. Brad says, "Erik, congrats on your continued success. Great job. Have you looked at sites outside of California so that investors can get the state benefit as well, given that California does not provide state Opportunity Zone benefits?" And he has a second question as well. I'll let you answer that one first, though.
Erik: So the first one is, you know, we've been developers here in the Bay Area for a long time. So we have not looked outside the state. We have looked at other cities like Oakland, Santa Cruz, San Francisco, but we focused on San Jose mainly because we wanted to do development in San Jose, not so much that there was the Opportunity Zone program here. We have a lot of experience building here in California. Now, as far as the tax benefits associated with California, really the biggest difference, like, let's say you were an investor in a state that has no state income taxes. If you invest into our fund, if our fund was the exact same fund, only it was in your state, the difference would be at the end, when we sell the assets, we provide our profits, you would have to pay California state capital gains taxes. At a maximum, it's like 13% change.
We had a third party do an analysis to determine how much that would impact the overall returns if that was the only difference. And the answer is it reduces our internal rate of return by a little bit more than 1%. So it isn't a significant impact. What really matters, as I mentioned is, you know, the location, the asset classes, and who the developers are that are building the buildings.
Jimmy: Very good. The second part of Brad's question, he's curious, what are you currently paying on the pref? Eight he guesses.
Erik: So, our preface and our fee structure at the fund level, we have a pretty standard two and 20, 2% management fees per year. And then we have an 80/20 split of the profits. That happens after investors receive all of their money back plus a 6% return per year.
Jimmy: Very good. Bill and Rita ask, they say, "I am an investor in your Fund I. What are the differences to the investor between Fund I and Fund II?"
Erik: Sure. Well, the first difference that I wanna mention is if you invest in the Fund II and you're a Fund I investor, you get those 4.5% bonus units. So that's a very important thing to know. The second is, you know, fund one has six projects. In general, they're a little bit smaller projects. And there's more of a diversity of asset classes. In Fund II, we have larger projects, less diversity, although we do still have the two most common types of real estate here in the Valley with office and multifamily.
In Fund II, because we have larger projects, we do have more construction cost efficiencies, so we can build the buildings, you know, relatively less expensive, because they're bigger, and we have more space. So that's kind of a nice thing. So those are kind of the two well… Then there's a difference in timing. We still have Fund II open, which is great for fundraising. And in fund one, we plan on selling all of our buildings in 2031. In Fund II, we plan on selling our buildings in 2034. Both funds plan on having refinance events prior to the 2027 tax year.
Jimmy: Very good. Well, we got time for… Let's see, we got about four or five more minutes here, Erik. We'll see if we can get to as many of these questions as possible. Let's go to Scott's question next. He's worried about a statewide rent control law, how might that impact your investments? Are you concerned about that at all, Erik?
Erik: So we're not concerned about that at all. I mean, we don't have rent control on any projects that have been built since, like, 1982 here in San Jose. And we've seen some of the things that have floated out there over the last, I don't know, 10 years. And none of them would significantly impact us. We're not very worried about that.
Jimmy: Let's see, Sandy asks, "With the wave of new companies in San Jose, are you able to purchase properties to meet your company's objectives?"
Erik: Yes, in fact, we've already purchased all of the properties for both Fund I and Fund II. Well, with the exception of we have one more of the four parcels to purchase in our Fund II, but we're gonna close escrow on that later this month. We've been in a binding option contract for a couple of years. But, you know, that question is a great question because that really is what separates us from other folks out there in the market is we've been developers here in San Jose for so many years. We know every single downtown property owner. This assemblage in Fund II, we've been working on this for 10-plus years. It only just so happens that we were able to complete it just in time to do Fund II.
But it's more of if we have funding sources, we can get the great properties. We can get them for, you know, a better price than a lot of the other groups that are just now coming into downtown because we just have those relationships already in place. And especially since, you know, we've now purchased multiple properties between our two funds, we're one of the go-to shops that gets to see every property, you know, before it even hits the market. So, it's really a great place to be in from a land acquisition perspective.
Jimmy: And so, you've almost acquired that entire half-city block. When are you anticipating that you will break ground there on this Fund II project?
Erik: So, we plan on breaking ground actually next month in January with some of the off-site infrastructure improvements. But going vertical, we plan on going vertical with the multifamily portion of the project later next year, say towards the end of Q3, early Q4. Then when we're complete with our fundraise, we plan on going vertical on the office portion. So call that Q1, Q2 of 2024.
Jimmy: Good. Let's see, Richard asked if you see an opportunity for a possible Fund III in the area at some point down the road?
Erik: You know, I would love to do a Fund III. Here in San Jose, there's a bunch of great properties that we have our eyes on that would work very well. There is new legislation out there. I'm sure a lot of you know about it. But the Opportunity Zone program, the new legislation, it looks very likely that it's going to pass. Actually, Jimmy and I were talking about this just the other day as to whether we think it'll pass this year or early next year, but it does several things. It includes extending paying your taxes in 2027. You don't have to pay it until 2029. That's great for… You know, we have 800-plus investors here at Urban Catalyst now. They're really happy about that one. The second is you get this additional discount when you pay your taxes. If you invested a few years ago, you had a like a 15% discount, then I went to 10, this year it's 0. Everybody retroactively gets that 15% discount. So that's a big positive too.
The third thing, which isn't so positive for us is it does eliminate some of the higher-income Opportunity Zones so, by way of its hiring and relative to the rest of the country. So, San Jose, we are higher income relative to the rest of the country. It would eliminate three of the four downtown San Jose Opportunity Zones. Our funds, Fund I and Fund II would be grandfathered in like five different ways. And that's not really an issue for our investors but it is an issue for us as fund managers, more than likely we wouldn't be able to do projects in downtown San Jose. And if we do do a third Opportunity Zone fund, more than likely it will be one of the other cities we're very familiar with here in the Bay Area.
Jimmy: Very good. I think we got time for one more question. If you sell an OZ property prior to 10 years and invest in another one, does the timeframe go back to year one or does it continue for that 100% basis benefit?
Erik: So, Opportunity Zones are allowed to do one-time 1031 exchanges inside of their own fund for a property. And then that would not impact your 10-year. Really the 10 years from the date the last investor invests into the fund.
Jimmy: Very good. Well, Erik, we've run out of time. Again, how can folks reach out to you if they have additional questions or if they wanna learn more about your fund or request subscription documents from Urban Catalyst?
Erik: Absolutely. I look forward to a lot of you reaching out to talk with us. You can find us at urbancatalyst.com.
Jimmy: Fantastic. And I've linked that in the chat. I'll post that link there one more time right now. Please do head over to urbancatalyst.com if you wanna learn more or to get in touch with Erik and his team. Erik, it's been a pleasure. Thanks so much.
Erik: Thank you, Jimmy. Take care.
Jimmy: All right, you too.