Investing In Colombia's Largest Coffee Producer, With Legacy Group
Legacy Group was a presenting partner at Alts Expo 2022, a one-day virtual event hosted by AltsDb. In this webinar, Josh Ziegelbaum presents The Green Coffee Company, Colombia's #1 largest coffee producer.
Interested In Learning More About This Opportunity?
Click here to visit the Official AltsDb Partner Page for Green Coffee Company. On this page, you can learn key details about this opportunity, as well as request more information from the sponsor.
Webinar Presenters
Webinar Highlights
The story and investment thesis for Green Coffee Company, Colombia's #1 largest coffee producer.
How new capital will be utilized, including for increased coffee production and additional products.
Summary of investment terms for this offering.
An overview of Green Coffee Company's growth since their last Alts Expo presentation.
A walkthrough of GCC coffee production strategies, and how they utilize waste from production.
Forecasted returns on invested capital.
How GCC is an impact investment, including the specific impact initiatives the company pursues.
Green Coffee Company's exit strategy and projected revenue on a sale or IPO.
Financial summary for the business, including forecasted IRR.
Live Q&A with webinar attendees.
Connect With Legacy Group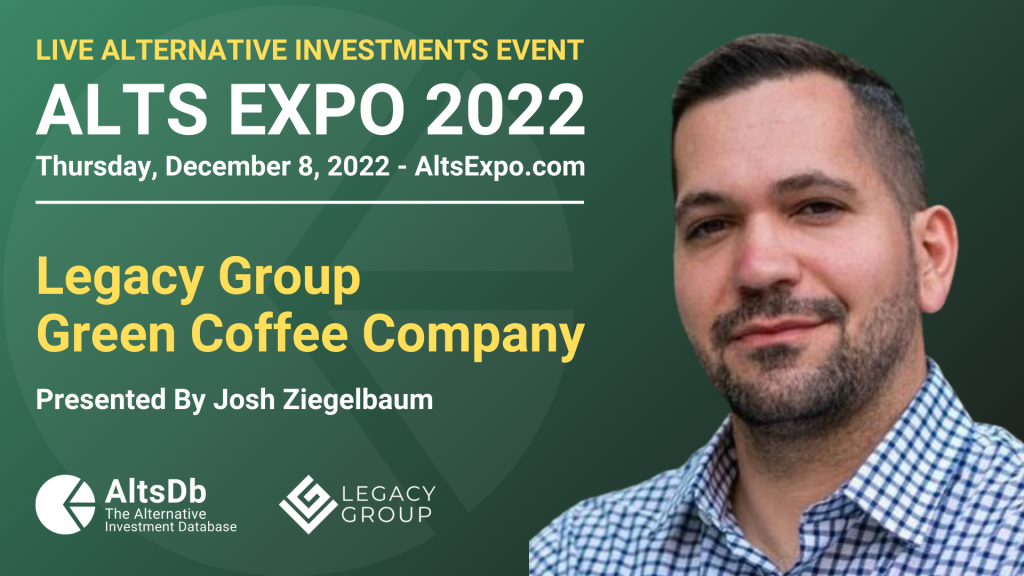 Webinar Transcript
Jimmy: Josh, there you are. How are you doing today?
Josh: Hey, Jimmy, I'm doing well. It's good to be back on Alts Expo 2022 with you.
Jimmy: Great to see you here today. So, you've got some coffee to talk to us about. So…
Josh: So, last year I presented to the group here, the Series B funding round for Green Coffee Company and a lot has changed since then. We've grown the company to be Colombia's number one largest coffee producer. We've really scaled up operations and revenue, and have an exciting exit plan for our investors. This is truly a one-of-a-kind opportunity to earn above-average financial returns, investing in a leader in the coffee industry. So, for those of you who don't know me, my name's Josh Zeigelbaum, director of Investor Relations for Legacy Group. We're an asset manager, a private equity firm focusing on Latin America. We've been on the ground there for about seven years now. And our flagship portfolio company is Green Coffee Company. I head up on-boarding, investor communications. Really, the day-to-day communications will come from me.
So, as an investor, we will speak frequently. We get out regular newsletters, updates, really interesting videos, and I'm gonna dive into the Series C round, kind of what's changed from where we were a year ago, where we are now, and why we're so excited about the path forward. So, the Green Coffee Company investment itself, it's a US-based investment. So, we issued common equity in Green Coffee Company holdings, and that parent company owns all of the operating subsidiaries and all the assets underneath it in Colombia.
So, we've made it as easy as possible for investors to get access to agriculture, and early-stage company, emerging markets, all through a US-based structure. In the series C Round, we're issuing $100 million of proceeds, so it's 25 million in common equity. We have a minimum investment of $100,000. And the goal with the proceeds here is to further solidify our dominant market position in Colombia, expand into the global market with roasted coffee, and grow our newest and most exciting to me revenue channel, which is the sale and distribution of products from coffee buy products. So, vodka, spirits, and other products from the waste of coffee production. And we're gonna dive into that in a bit here as we go through the presentation. So, the $25 million Series C equity raise is being done concurrently with $75 million of debt financing. With this capital, we expect to deliver on the expansion efforts of the company and increase overall investor returns.
The current valuation today, 77.8 million, it equals just about two times the company's liquidation value, and this is as of September 30th. The liquidation value then 37.6 million. We've had a tremendous amount of momentum already since launching this round in September. It's $1,200 a share is the share price. We've already over 10 million subscribed outta that 25. We've divided the funding round into three equal tranches, 8.33 million each, and we're offering investors share price discounts for early investment. As you can see, tranche A fully subscribed in less than two months since launching. Now we're in tranche B here in December. We're offering investors a 3.5% share price discount on invested capital and expect an 11x net return through 2026. There's a 6% breadth associated with the investment, but we expect to deliver multiples of that through a 2026 exit.
So, the use of proceeds, where are we gonna invest this? How are we gonna deliver these types of returns for our investors? This slide here breaks down the use of proceeds for the $100 million in the Series C round. You could see a bulk of the proceeds, over $50 million, is earmarked towards additional farm acquisitions and the build-out of farmland development and infrastructure. Essentially, we wanna replicate what we've already done in Salgar, Colombia, where we're the largest employer, and we have our two processing facilities. We'd like to acquire farmland in another region of Colombia. Even though we're the largest player in the country today, we have a goal of being the largest Arabica coffee producer globally in the coming years, and more acquisitions are needed in order to do that.
So, really replicating what we do best, which is production of coffee at scale. And then, you know, what's really exciting about this is the build-out of additional verticals first being the US roaster. So, we would like to go from a wholesale B2B green coffee model, which is what we do today is sell unroasted processed coffee by the container, and we wanna get into roasted coffee. Why is that? We can make significantly more margin per pound, approximately 60% more, and achieve higher revenues, of course. The byproduct initiative that's through the build-out of the alcohol distillation facility. We expect about 6.4 million from the proceeds of the Series C round to go towards this. This is something really important to understand is that 80% of the coffee cherry, it's typically discarded, it's waste. Only 20%, or approximately that, is the coffee bean that we know and that we drink in our coffee. So, typically, people discard this. They might use it as fertilizer, and unfortunately, it's often discarded in rivers and polluted in terms of what other players are doing in the space. But what we wanna do is create a whole new revenue stream out of this. We expect at full capacity, with the amount of coffee cherry that we have going through our facilities, that we could produce over 38,750-milliliter bottles of vodka per day at capacity. Then the balance of the funding round here, working capital budget, funding our coffee trading operations, our buying program, retire some existing debt, and things of that nature.
So, what's our story? How did we grow this company to be the number one largest producer in Colombia, a country known for coffee in just five years' time? In 2017 we founded the company. We seized the moment to create the Green Coffee Company. The seed funding round was initiated in 2018, and that funded the initial acquisitions. We knew that we wanted to challenge the traditional model of the coffee industry in Colombia. It was really ripe for disruption. It's just been plagued [SP] by generations of under-investment, particularly foreign investment. And there's just heavy decentralization. It's just highly fragmented, smaller landholding families. Things run in a very antiquated manner. And we knew that there was a tremendous opportunity here for our investors. So, we executed on our thesis on bringing in this new perspective back in 2017. And our ambitions today are really multiplying.
So, in less than five years' time, we've grown this company to have 27 farms, over 6,600 acres of land holdings, over 7 million coffee trees planted.
As I mentioned, we're the largest employer in the town of Salgar, where we operate. It's about two to three hours outside of Medellin. We have 428 full-time employees, 350 plus investors, and we've grown this with over $45 million committed to date. There's tons of environmental certifications. You can see a couple here on this slide. Rainforest Alliance, Starbucks's Cafe practices, and a few other awards and recognitions to note. We're a member of CEA Colombia, which is the Council of American Enterprises doing business in the country. We sit at the same table as other multinational companies. That's a really important one there. Earlier this year, we were recognized by Colombian Congress and their agricultural minister for best technological innovation in agriculture. This was huge.
We're really leading the coffee industry in Colombia in several key initiatives. You know, full-time employment, single mother initiatives. We're employing them in our greenhouses. And we have several in leadership roles. We really focus on that full-circular economy. That's to just use everything that we do in order to drive revenue. So, the byproducts piece is one there, of course, and you know, where we're going is what's important, right? So, I kind of told you where we came from, how we've grown, where we're at today, and where we're going. This is how we're gonna execute on the business plan. Over the next year through 2023, we wanna continue to scale our farming operations, continue to acquire land. As mentioned, we're looking at regions outside of where we are, so we can control year-round production.
So, duplicating what we do best will be done, you know, through the end of 2023. And we expect to really further grow land holdings in that time. As we get to the tail end of next year and into 2024, the launch of our vodka and spirits business will take shape. We're targeting Florida and Texas for our US-based roaster. However, the spirit and vodka production will be on-site in Colombia due to the shelf life of the coffee cherry waste. And that roaster piece, 2024 is when we expect to have that built out here in the US, and that'll allow us to go more vertical as we look towards a 2026 exit for our investor base.
So, some of you may have heard me present last year in Alts Expo 2021. So, where were we then, and where are we today? So, some interesting comparisons here on this slide. At the time of our last presentation, we were the number three largest coffee producer in Colombia. We had 2,300 in change acres, 11 farms, just under 3 million trees planted. Today, we're the number one largest. You can see, we've more than doubled land holdings. We're at 6,652 acres, 27 farms, 7.7 million trees planted. Thanks to all the commitment from our investors, of course, and the execution of our management team, the expected equity multiple at time of the Series B round, we were forecasting a 6.4x return on invested capital through an exit at $700 a share. Today with the build-out of the roaster, with the plans on the vodka business, you know, we're forecasting an 11x net return on invested capital through a 2026 exit at the $1,200 a share price.
So, the team is really what I love about being involved in this company. I talked through some of these team members last year. So, Boris Wullner, a 25-year veteran of Colombian agriculture, decades of combined experience, really brings strong working relationships, like, really key relationships to drive things forward. Has just innovated incredibly in terms of the technology that we're bringing to the farms and to the facilities. He's one of the board members at GCC along with Cole Shephard and Adam Jason, who are the two partners at Legacy Group. Cole had a full career at PWC, a big-four accounting firm focusing on mergers and acquisitions on an international level throughout Asia, throughout the Bermuda area, and also now in Colombia where he lives, along with Adam Jason. So, we have boots on the ground.
Adam Jason, full career as a corporate attorney, helping companies go public, representing them through public and private debt and equity insurances.
He's really done a great job in driving forward the capital raise and making sure that we're in a position in order to deliver on our projections. And the newest addition to the team, which I wanna jump to, in the bottom right here, Steve Oakland, who joined GCC as a strategic advisor just in the last couple of weeks here. Steve is the president and CEO of Treehouse Foods. It's a New York Stock Exchange, publicly traded company. They've done 4 billion a year in revenue while Steve has been involved, and he's just joined us as a strategic advisor at GCC. And we've just had incredible conversations with him over the last week. We think that he's gonna be instrumental in driving forward the business plan, particularly as it relates to the roasted coffee business as we get into the US market.
And prior to being the CEO and board member of Treehouse Foods, he was the president of Coffee and Food Service at J.M Smucker Company in 2015 and 2016. Another advisor we have, Chris Kelly, you know, he was involved last year when we did this presentation, but Chris brings tremendous value to us. You know, one of the leading lawyers for business. He's a partner at Jones Day. It's one of the world's largest law firms. So, Chris and Steve as advisors, you know, we couldn't ask for anyone better on that front. Leonardo Sanchez was the CFO for Fox Latin America, and really the list goes on, but I just wanted to point out Steve, and why we're so excited about the recent addition to the team with him.
So, a bit more on our execution strategy and the three pillars that we discussed. So, we're gonna create value from three core pillars. First is continuing to execute on what we do best and what we do today, which is best-in-class coffee production at scale and green coffee sales. Despite being the largest producer, our plans are nowhere near complete. We want to continue to buy farms both in the Salgar region where we're operating now. We're also looking at the coffee triangle as another region that has Spring harvest. So, we expect this business to continue to grow, and a good chunk of the capital from the Series C round is earmarked towards acquisitions and infrastructure build-out. Second pillar is the large-scale coffee-roasted sales that I mentioned, which Steve will be instrumental in, allowing us to deliver on that.
So, going more vertical, we see a path to selling over 30 million pounds of coffee roasted in 2026 and do 217 million in revenue from that vertical alone. So, this will be the primary driver of revenue as we look towards an exit sale, or more preferably an IPO in US markets. The third pillar would be the vodka and spirit production from coffee waste. You know, this one really comes outta nowhere with a waste product. And we expect to do 49 million in revenue, uh, with this innovative strategy in 2026. So, for total revenue, we're forecasting in our exit year that we're anticipating, $266 million, and that's up from what we're expecting in 2022. In terms of our forecast, we're at just over 10 million this year. So, you can see the growth trajectory in terms of where we are today, even after all the growth we've done, and then where we're going in the coming years here for our investor base.
A bit more on pillar one. This gives you a bit more of a visual on kind of how we do things. So, continuing to scale, we control from planting even in our greenhouses. You can see some of the single mothers heads of households that are running our greenhouse on the left and the top here. After it's planted from a seedling. Now, we obviously have to take care of the trees until they mature. So, we have agronomists and all sorts of technologies that are monitoring the plants at the farms. Once harvested by our employees, it's processed in our world-class facilities. We go through quality control and then we deliver to our end clients.
This map gives you a nice visual of our growth through acquisitions since we started the company. So, in 2018, you can see the green areas. Those were our initial acquisitions, 607 acres we've grown today. There's been four major series of acquisitions over the years, 2018, 2020, 2021. And then this year, and then you can see how we've grown over time. We're really in a consolidated area. We're buying out [SP] from smaller land-holding families, building out facilities. We're the largest employer in this town as I mentioned, and just over 6,600 acres owned today. We have additional planned purchases through the end of next year, and we expect the year-end total acreage count to be just about 15,000 at the end of 2023.
So, the next pillar is the large-scale coffee-roasted sales. So, this slide just illustrates to you why we want to get into roasted. You know, essentially more margin per pound, and we also can kind of get away from the fluctuations in the commodity markets. When you're selling a roasted product, it's more of a consumer product, and you won't see as much volatility in terms of pricing. So, going to a roasted coffee model, we can make substantially more revenue and more margin per pound of coffee coming off of our farms. Another slide here, US-based roaster. So, at full capacity, over 30 million pounds per year. We expect in 2026 to recap 217 million in revenue to come off with this vertical. So, 15 million invested from the Series C round, expected to make 217 million in revenue a year, come 2026. We think this is a great way to deploy investor capital to further grow the business. The untapped potential through the coffee byproducts.
This is the distillery initiative. As I mentioned, 80% of the coffee cherry is waste. The challenges here and why people haven't done it, you know, it spoils very quickly, 24 to 48 hours. You know, the green coffee market is liquid, but farmers don't really have bandwidth to develop anything else. They operate in very, kind of, antiquated, older manners.
So, from a technological perspective, we have solutions in place here. We wanna build a distillery onsite, focus on spirit production first. It doesn't have the same kind of restrictions that you'll find in products like tea or cosmetics. And being the largest producer in Colombia, we have tons and tons of free waste that we're gonna use to unlock additional revenue for our investors through this initiative. So, at full capacity, to recap from earlier, 38,000 bottles of vodka per day. Forty-nine million in revenue projected from this source alone for capital costs, from proceeds from our Series C round of just 6.4 million. So, the impact piece on this investment is something that really resonates with me. We didn't talk about it too much throughout the presentation so far, but it's most certainly an impact investment. We're checking a lot of boxes as it relates to ESG. You could see the sustainable development goals that we focus on primarily. These are set forth by the UN, but these are the goals that we focus on at GCC, gender equality, clean water and sanitation, decent work environment, responsible consumption, climate action, and life on land. Man, I won't talk through every point on this slide, but what I like here, formal employment. I mean, these stats are just incredible.
Just look at this section here. Pension plans, GCC. We provide 75% of our employees with pensions. The sector average is just 1%. A hundred percent of our employees get healthcare, sector average, 3%. Formal banking, we're more than double the sector average. And almost everyone we pay is through bank accounts. So, they can build credit, they can help raise the standard of living for their families. So, this is something I see. I witness it on the ground when I visit. I just love this component of the company, and it's something really special to me. But from an environmental perspective, we do a lot as well, reducing water, reducing waste, reducing pesticides. We have a full team of experts and coffee professionals making all this happen for us on the ground in Colombia.
So, our exit plans, this is one I'm sure we want to hear more about. Certainly what makes me excited about the business. So, some comparable companies that we've backed into evaluation with here. So, in 2026, as I mentioned, 266 million in revenue is forecasted. We expect to do 60 million in net income on that. And what we did was we took a 20x multiple on earnings, which is the historical S&P 500 average. We apply that to the 60 million in net income expected in 2026. And we backed into a 1.2 billion company valuation projected in 2026. How does this compare to other companies that are in the space? I mean, you could see Black Rifle, Reborn, NuZee, Westrock, these all went public recently at incalculable PE ratios, and they were all unprofitable at the time.
Coffee Holding Company is a bit more of a small-cap company, where you could see PE ratio north of a hundred when they went public. Duckhorn Portfolio is a sustainable wine producer. The only one that's a bit close to kind of what we're forecasting here. They went public at a 37.5 times multiple. You know, typically, you know, S&P 500, this is large-cap companies. This is the Apples and the Googles of the world. You know, comparing us to them in terms of a multiple, we're more close to what you would find in the Russell 2000, which is north of 50 times. So, for the sake of being conservative in our assumptions, and getting to numbers that we're comfortable with, we applied this 20x multiple to 2026 expected net income. More on that is here on this slide. So, this is the proforma for the Series C round. You could see expected revenues carried over here in 2026, 266 million. In line with what I mentioned before, 216 million from roasted, 49 million from sub-product or byproduct sales.
That 60 million net gets us to 1.2 billion. This is a 64.1% IRR forecasted through 2026, and an 11x net equity multiple for our investors. You know, the way that we can achieve this is because it's an operating company. It's real asset back, which of why our investors love it because we're buying up real estate, we're buying land. You know, the downside is really protected with the balance sheet there, but the upside is massive because we're revolutionizing an industry. We're building an operating business that is asset-backed. And with all the capital that's coming into the company, with the expertise of the management team, we expect to deploy that efficiently, grow multiples from where we are today. And our investors, you know, they constantly sending me messages on how excited they are with our updates, where we're going. And I would love to welcome you to be a part of this journey with us.
So, we have a special offer for the Alts Expo attendees. Our typical minimum investment, as I mentioned, $100,000. We're offering a $50,000 minimum investment, same 3.5% share price discount, and that's good through December 31st or end of year here. Next option, option B, meeting our standard minimum or more. A hundred thousand or more will receive a 5.5% share price discount. That we typically kick in at the 250,000 level, which is normally required to achieve this discount. So, some nice promotions here lowered minimum with our standard discount or meet our standard minimum or more. And we'll give you a nice bump to 5.5%. Larger share price discounts are available based on investment amount, so we can discuss that individually. Offline, there's only 6 million remaining in tranche B. And as I mentioned, we launched this in September. We're already 10 million subscribed. I expect the balance to go quickly. So, this is definitely something we would want to act on pretty quickly if you wanted to participate, particularly at the best terms, which we have available for you here through Alt Expo.
So, with that, I'll put my contact information on the slide. Would love to get in touch with you all, and perhaps we can carve out some time here for Q and A. I see some questions down at the bottom. And why don't we get into that, Jimmy.
Jimmy: Yeah, we do have several questions. We've got about six or seven minutes to see how many of these we can get answered, and please do reach out to Josh. His info is on the screen right now, if you have any questions. First question came in from Steven, and I think you answered this just a couple of slides ago. It looked like you had about $1.95 million in EBITDA this year. He asks, "Are you EBITDA positive? Can you confirm that?
Josh: Yes, yes, Steve. We were EBITDA positive, and we're expecting to be this year as well.
Jimmy: Good. Next question says, "I may have missed this, but what is the timeline for distributions? Or will any cash flow be reinvested?"
Josh: Yeah, that's a good question. So, it's most certainly grow my net worth style investment. We do have a 6% preferred return, which will accumulate in years in which there is no dividend. It's quite possible that we'll issue a dividend before exit. We're really focused on long-term shareholder value and high financial returns. If a dividend were to be declared, it would be on an annual basis. So, we would finalize the books. For example, let's use 2022. We would want to do our audited financials in the first half of next year. After finalizing all of that, if it makes sense for the company to distribute a dividend, we would go ahead and do so. While the company is structured as an LLC, we've elected to be taxed as a C Corp. So, any distribution would generate a 10.99 for our investors.
Jimmy: Good. Scott has a handful of questions here, but the one that most interests me is about roasting. Are you delivering raw coffee beans or roasted coffee beans? And if it's the latter, are your roasting sites worldwide to maintain freshness? Is Scott's question.
Josh: Right now we're focused on processed unroasted coffee sales. So, the business is very much a green coffee sale business. So, we process the cherries at our own facilities. We do quality control, but we sell containers of unroasted coffee in and out of Colombia. As we get into roasted, that'll change, but we're doing some small sales of roasted now to kind of test out the market. We're building out our brand, which is Abira. It's our roasted coffee brand, and we expect a website to be launched soon with a subscription model, which is direct to consumer. But as we build out the B2B sales channel, we're some time away. Right now it's primarily green coffee.
Jimmy: We read a couple of questions about the risks of being located in Colombia. Alan and Brad both ask a similar question about, you know, how do you deal with regime change risk for the land that you own?
Josh: Sure. We recently had a new president come into office in Colombia. He's been very supportive of the coffee industry. We had along the campaign trail, he was speaking about making the country more of a producer, less of an importer. Coffee, certainly checks that box being the national product. We expect him to come down harder on oil and gas and industries such as that. We're very much not in that space. We're in the sustainable agriculture space. So, we think no other industry will really stand to benefit from the new regime as opposed to coffee. But we have great relationships locally being the largest employer in Salgar. We're friendly with the mayor. We're a member of CEA Colombia as I mentioned. So, we get access to information from the US Embassy. We recently had an inauguration event for one of our new wet mills, and we had congresspeople, representatives from Starbucks, other government officials. There was an address done by the governor of Antioquia, the state where we're in. So, we very much have the support of the local government. And even though it's a US-based investment, we've hired, you know, key players in Colombia who have deep relationships locally in order to drive the business forward.
Jimmy: And, you know, another part of Alan's question asks specifically if you're concerned with risks of local gorilla and paramilitary groups that have historically been a threat to landowners, how do you mitigate that risk?
Josh: So, security, of course, is one that's an important piece. You know, having the appropriate security on site. That CEA piece that I mentioned, you know, we have access to movement. So, if there is any movement in certain regions of Colombia, we get access to that through CEA Colombia. The area that we're in, in Antioquia, particularly Salgar, it's very much a coffee region. It's not, you know, a place where we see these kind of issues, or at least we haven't to date. So, we've had no concerns or run-ins for the safety of our employees. As it relates to any threats on our land holdings, you know, it's very much a capitalistic country. You know, land can't just be taken, you know, particularly by people that you mentioned. I mean, but we have security provisions in place, but we haven't seen anything that would lead us to believe that that would happen at a point in the future.
Jimmy: Got it. Brad has a second question. He asks, despite the sales goal in 2026, have you considered creating a US opportunity-zone business for the sales of your products in the US and for your US assets?
Josh: That's an interesting question. We are not at this point considering US opportunities owned business. You know, all the ownership of the facilities that we would have in the US would be through the same parent company. So, we issue common equity at the US parent, and then that would, at that point, not just own the assets in Colombia, you would own the assets in the US as well. So, at least as of right now, we wouldn't be spinning it off. But it's not completely out of the question.
Jimmy: Patrick asks, is Green Coffee Company a certified B Corp?
Josh: It is not. At this point, it's not. We've evaluated that. It's something that we're considering, but as of today, it's not a B Corp, but it still most certainly is an impact-oriented investment that we're proud of.
Jimmy: Good. We've got time for a couple more questions here, and then I'll cut you loose, Josh. Pam asks, "Can you address risks such as droughts and floods and the difficulty of growing coffee at low altitudes?" And she also asks, "Can you look at your analysis as a multiple of revenue?"
Josh: Sure. So, risk… let's see. So, weather is the biggest risk in agriculture. So, it's something that just needs to be mitigated, right? So, you can mitigate, mitigate, mitigate, but you can't eliminate that altogether. So, we've been fortunate in that we have a great leadership team with technology onsite to monitor weather patterns. So, whether that's rain, humidity, the conditions of the soil. We're very proactive in our planting, and in the way in which we take care of the plants. We have a partnership with Ex Farm, which has sensory equipment all over the farms, and we have a control room that we could easily monitor what's going on and be proactive in that approach. In certain years, there's less production globally in coffee, right? And or just in certain regions. So, we kind of just have to weather that, mitigate it. The good thing is when there's supply shocks that usually causes a spike in pricing. That's something we saw last year. So, even if production is down due to things like La Niña, we've been able to experience increased revenues due to the higher price of coffee commodity prices.