Live At IPAVision 2022: Megan Gavin Of IPA
IPAVision is organized annually by the Institute for Portfolio Alternatives, with the 2022 conference taking place in Nashville, Tennessee.
Megan Gavin, director of strategic partnerships at the IPA, joins AltsDb co-founder Jimmy Atkinson with a live update from the event.
Watch On YouTube
Featured On This Episode
About The Institute For Portfolio Alternatives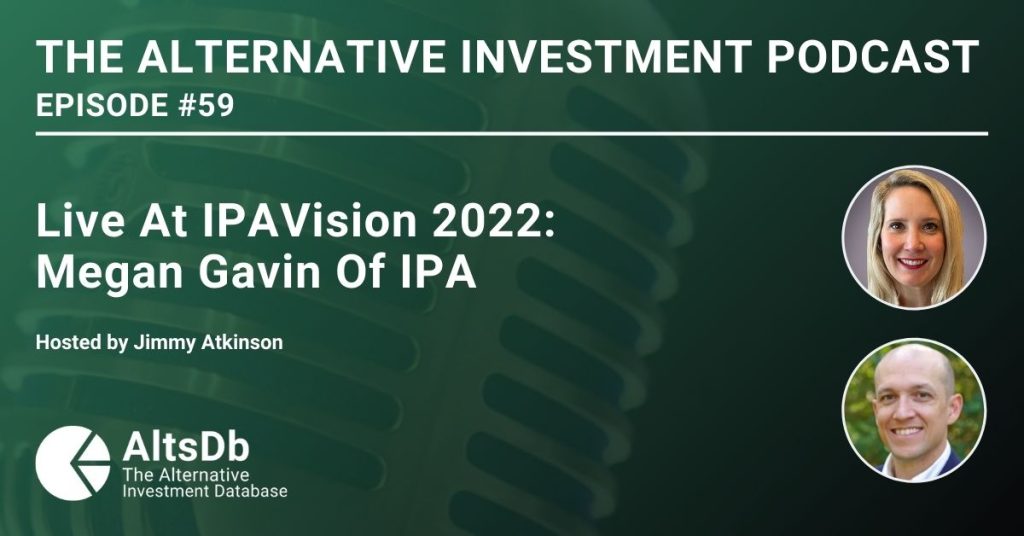 About The Alternative Investment Podcast
The Alternative Investment Podcast is a leading voice in the alternatives industry, covering private equity, venture capital, and real estate. Host Andy Hagans interviews asset managers, family offices, and industry thought leaders, as they discuss the most effective strategies to grow generational wealth.
Listen Now
Show Transcript
Jimmy: Welcome to "The Alternative Investment Podcast." I'm Jimmy Atkinson, filling in today for Andy Hagans. And I'm coming to you on-site at IPAVision 2022 in Downtown Nashville, Tennesee, and I'm joined today by the Director for Strategic Partnerships for the Institute for Portfolio Alternatives, IPA, Megan Gavin.
Did I get your title right?
Megan: That's correct.
Jimmy: And how are you doing today?
Megan: Great. We're wrapping up. This is our third day, and we're wrapping up the conference, and excited to have had such great content and record-breaking attendance. It's been a fun three days.
Jimmy: It has indeed. This is our first IPA attending as AltsDb, so we're really excited to bere as a new partner of IPA, and we're hoping to continue telling the story and delivering education in the alternative investments universe. Tell me a little bit about IPA, what are your growth plans for the rest of 2022, and heading into 2023?
I know that's a department that you cover a lot.
Megan: Yes, so as a trade association, we do a lot of different things, whether it's education, PR for our space, we do a lot of advocacy. One of the areas that I spend a lot of time on is business development. And I'm excited to see how our industry has evolved over the last few years.
I think if you would have seen what the IPA in our space looked like 10 years ago, or even 5 years ago, it's a very different place. And so, when it comes to business development, last year, we had a 20% growth in membership. We're continuing to see really smart, innovative sponsors coming into the market, and I'm excited to bring them on as members, both small and large firms, firms that have unique product structures.
And I feel like the more, the merrier. We're excited to represent these folks, and, you know, pick up the cause where we need to with them.
Jimmy: Fantastic. Well, really incredible three days here in Nashville, appreciate us being able to come along this time, and really looking forward to the next one. Before we wrap up…this is just a quick five-minute interview today with you, Megan. We'll do a more in-depth one maybe down the road, but I know you're busy. I appreciate your time today.
But tell us about the new direction of IPA under its new CEO and President. I hear you have a new CEO and President. She gave the opening remarks a couple of nights ago.
Megan: Yes, so we finally were able to announce our new CEO. We're thrilled to have Anya Coverman leading us. She comes with a tremendous background, working with us internally with advocacy. Knowing the IPA as well as she does, I feel like it can be a great, smooth transition. You know, it's a small staff, but we punch above our weight, and I think Anya is going to be able to really…
You know, with change, there's always maybe some uncertainty, but I feel like because she's come from the IPA, that helps us kind of launch straight into a lot of great planning that we can do for 2023. You know, we're looking to build out our RIA market.
I have a lot of new asset managers I'm looking to bring on. Education is going to be a huge component of what we want to try to champion in 2023. We still have a huge advocacy push going on with NASA. And just, we're excited to see Anya take this role and run with it, and we're here to support her and all of our members.
Jimmy: And we're here to support IPA as well. We just had Anya on the podcast a few weeks back. We'll be sure to link to that interview that Andy Hagans did with Anya Coverman in the show notes for today's episode. And please be sure to subscribe to AltsDb on YouTube, or your favorite podcast listening platform to always get the latest.
Thanks so much, Megan. Appreciate your time today.
Megan: Thank you. Appreciate it.