Value-Add Multifamily Real Estate, With Mitch Siegler
While office and retail real estate properties hit a speed bump during the Covid lockdowns, multifamily continued to thrive. Tailwinds from higher inflation and continued high demand have ensured that this sector continues to be a favorite for High Net Worth investors and their advisors.
Mitch Siegler, Senior Managing Director and Co-Founder of Pathfinder Partners, joins the show to discuss the enduring appeal of multifamily and what factors investors should consider when evaluating value-add multifamily investments.
Watch On YouTube
Episode Highlights
Why multifamily remains an appealing sector for VHNW investors, even amongst current economic headwinds.
Mitch's favorite type of multifamily (hint: it isn't Class A).
Some compelling reasons that value-add offers a compelling risk-reward scenario for investors, compared to ground-up construction.
Mitch's thoughts on Opportunity Zone funds, and whether "tail is wagging the dog" in some cases.
The components of a solid multifamily investment strategy, including the types of "moats" that make for a prudent investment.
How current market conditions are affecting the ideal lifecycle of a value-add multifamily project.
Featured On This Episode
Today's Guest: Mitch Siegler, Pathfinder Partners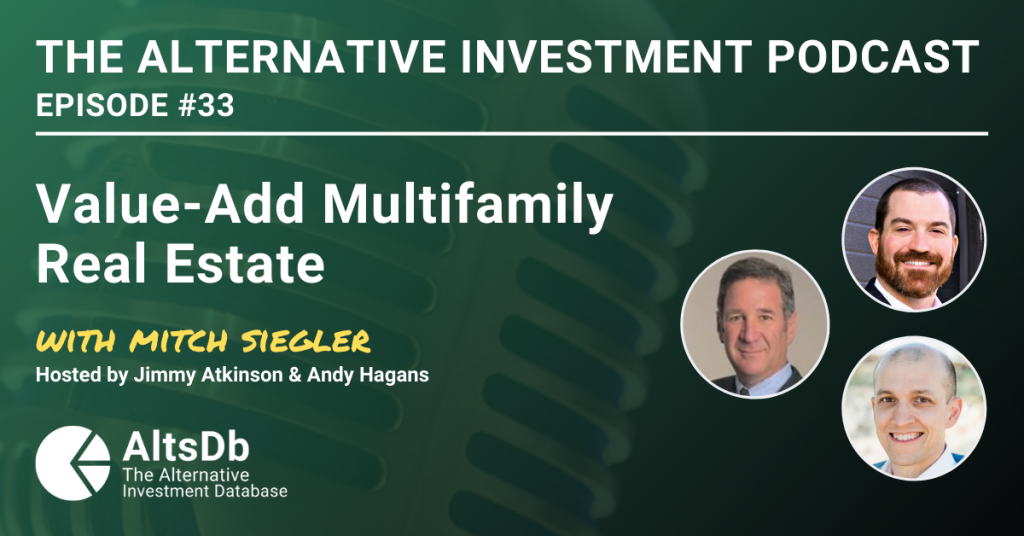 About The Alternative Investment Podcast
The Alternative Investment Podcast covers new trends in the alternate investment landscape. Hosts Jimmy Atkinson and Andy Hagans discuss tax-advantaged investment strategies to help you grow your wealth.
Listen Now
Show Transcript
Coming soon.