The Federal Reserve recently announced a 50bps rate hike, in the wake of a CPI spike that has reached a forty year high.
But as both bond and equity markets have nose-dived, alternative asset managers continue to show momentum. Could inflation actually be helping to accelerate the growth of the alts market?
Watch On YouTube
Episode Highlights
Details on the continued growth of the alts market in 2022, even against the backdrop of high inflation and economic uncertainty.
Why financial repression is causing more High Net Worth investors and advisors to reallocate portfolio funds into alternatives.
Specific alt segments that have had record quarters already in 2022.
Two types of alts that investors believe are highly resilient to inflation.
Why the alts space should see continued growth for the next several years, regardless of how the economy is managed (or mismanaged!)
Andy's four alternative picks that HNW investors and their advisors should consider.
Featured On This Episode
Today's Guests: Jimmy Atkinson & Andy Hagans, AltsDb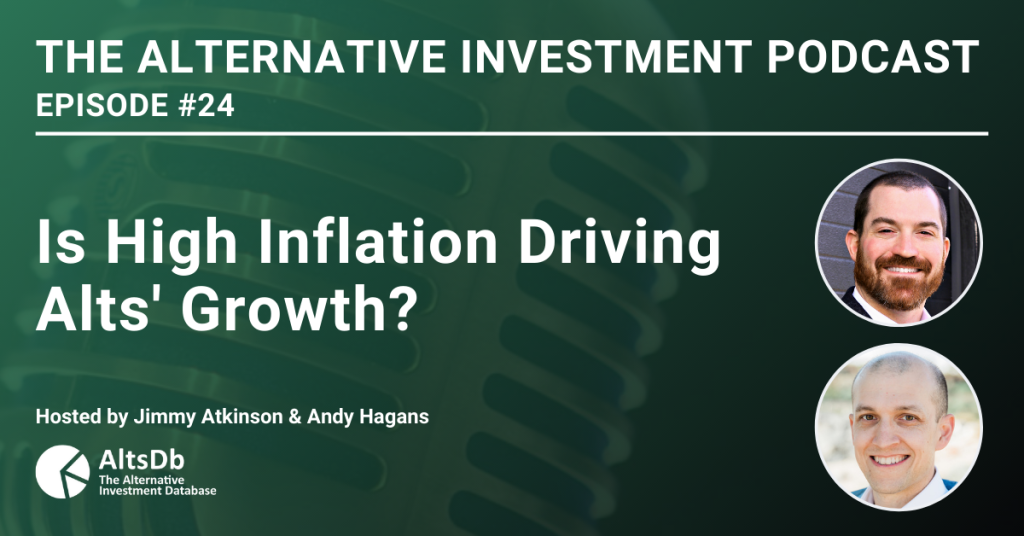 About The Alternative Investment Podcast
The Alternative Investment Podcast covers new trends in the alternate investment landscape. Hosts Jimmy Atkinson and Andy Hagans discuss tax-advantaged investment strategies to help you grow your wealth.
Listen Now
Show Transcript
Coming soon.